2023 Mic Mac AAC Rowing Programs for Juniors
Updated April 7, 2023
The following rowing programs are being offered in 2023 for this age group (12-18 years):
Note: Annual Rowing Canada Aviron (RCA) membership fee ($26.25) and Row Nova Scotia (RNS) fee ($15.00) will be added to the program fee for the first program each participant joins each membership year (April 1-March 31).
 The RCA Online Registration system will automatically add these fees during the registration process.
 Funding Assistance:
Families seeking financial assistance are encouraged to review KidSport funding criteria to see if they are eligible. Families can apply to help offset the cost of organized sport registration and equipment. Rowing programs at Mic Mac AAC are eligible for this funding. Check out: www.kidsportcanada.ca/nova-scotia/apply-for-assistance/ for more information.
Support for the Junior Summer Camp Program is provided by Rowing Canada Aviron
---
SUMMER CAMPS – JUNIOR LEARN TO ROW / RECREATIONAL ROWING

JUNIOR DEVELOPMENT / COMPETITIVE ROWING
JUNIOR RECREATIONAL ROWING – SPRING/FALL AFTER SCHOOL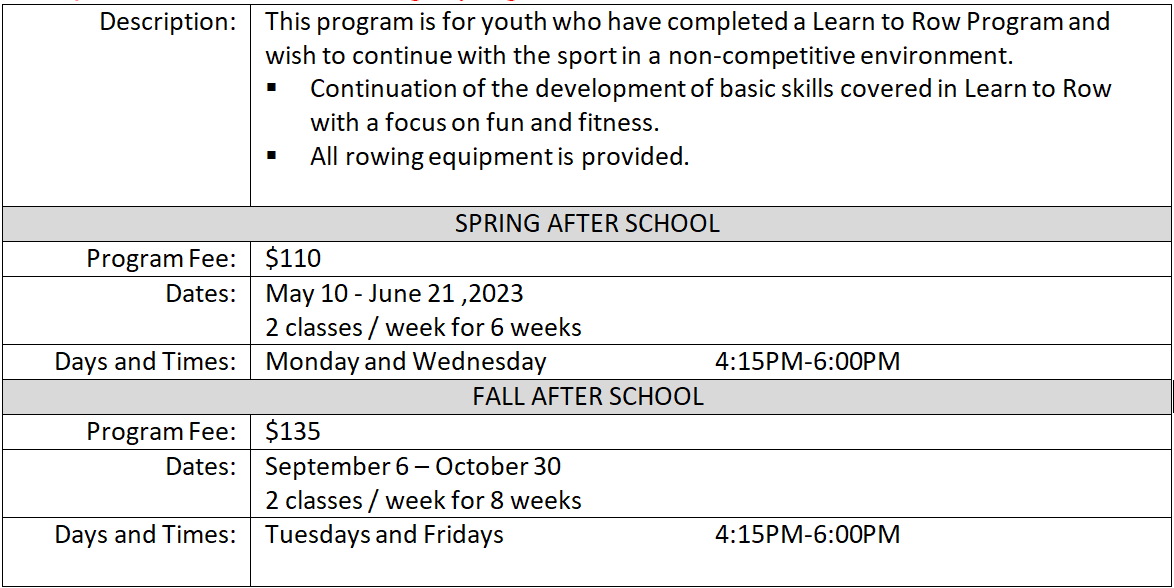 REGISTRATION AND PAYMENT
All registration and payment for Winter Programs is via the Rowing Canada Aviron (RCA) Online Registration System: . Full registration and payment must be received prior to the program start.
Registration instructions for NEW MEMBERS:
Registration instructions for RETURNING MEMBERS:
*FEES
Annual membership fees of $15 for Row Nova Scotia (RNS), and $26.25 for RCA will be automatically added by the online registration system to the first program joined each membership year (April 1-March 31). Anyone joining a winter program as their first program this year will have $40 added to the program fees outlined.
SCHEDULE VARIATIONS
The schedules outlined are based on the assumption of registration numbers consistent with previous winter programs. Schedules may be adjusted if registration numbers are higher / lower than expected, or based on attendance.
---