Rules and Guidelines
It's a team effort!
Newsletter Archive
---
The following age categories are are per Rowing Canada Aviron (RCA) Rules of racing, revised January 27, 2013:
1. Under 17 (Junior B) – A rower or coxswain shall be classified as an Under 17 competitor until the 31st of December of the year in which he or she reaches the age of 16. After that date, the rower shall be classified as a Junior rower.
2. Under 19 (Junior) – A rower or coxswain who is no longer an Under 17 competitor shall be classified as a Junior competitor until the 31st of December of the year in which he or she reaches the age of 18. After that date the rower shall be classified as an Under 23 rower.
3. Under 23 – A rower or coxswain who is no longer a Junior shall be classified as Under 23 until the 31st of December of the year in which he or she reaches the age of 22. After that date, the rower shall be classified as Senior.
4. Senior – A rower or coxswain who is 23 years or older during the calendar year in which he or she is competing.
5. Master – A rower may compete as a Master from the beginning of the year during which he or she attains the age of 21. Master's Age Classifications:
AA age: 21-26 years
A  age: 27-35 years
B  age: 36-42 years
C  age: 43-49 years
D  age: 50-54
E  age: 55-59
F  age: 60-64
G  age: 65-69
H  age: 70-74
I  age: 75-79
J  age: 80 and over
---
Please arrive 15 minutes before practice. Being on time will ensure each participant gets a seat in a boat. Late arrivals may not be able to participate.
Please report all broken or damaged equipment to your Coach.
Please wear snug fitting and weather appropriate clothing, as the MMAAC Rowing programs run 'rain or shine'!
Socks must be worn while rowing. This is an important measure to ensure proper hygiene in the rowing shoes.
Follow the course rules of the lake. If you are unsure, ask your Coach.
Conduct yourself in a mature and responsible manner and treat other club members and club equipment with respect at all times.
Members, family, and friends are encouraged to become involved in all aspects of the club, including all social events! Members are required to volunteer with the club including fundraising, boat bay maintenance and assisting with regattas.
Competitive athletes must attend all scheduled practices unless otherwise arranged with the Coach.
Competitive athletes are required to commit to and follow the prescribed training program, complete testing, and participate in selection as required.
---
Pending approval by the Equipment Sub-Committee, MMAAC members may store personal boats and other equipment at the club for an annual fee. All individuals storing equipment on the premises must be registered in a Rowing Program.
---
All coaches at Mic Mac AAC Rowing are in-training, trained, or certified by Rowing Canada Aviron (RCA) as either Learn to Row Instructors, RCA Coaches, and/or RCA Performance Coaches. Each are experienced rowers, have completed Emergency First Aid / CPR, obtained their Pleasure Craft Operators Card, and have been approved through the Criminal Records check with HRM Police.
Tracy Brown, Sport Director / Indoor Rowing Coach (Winter Training)
Tracy started rowing in 1990 and represented Team Nova Scotia at the 1993 Canada Games. After a break from the sport, she returned as a Master's Rower at Mic Mac AAC in 2011. Since then she has continued to row and has become increasingly involved in various areas. In 2013 she joined the Row NS Board and also volunteered as Manager for Team Nova Scotia Rowing at the 2013 Canada Games. In 2015 she began training to become a Learn to Row Instructor and RCA Coach and achieved certification in both in 2016. She was recently selected as one of two Women-In-Coaching Apprentice Coaches, and was part of the Coaching Staff for the 2017 Canada Games. Tracy is energetic and passionate about rowing, and also about providing opportunities for others to feel the same way.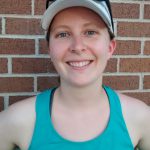 Angela Hersey, Indoor Rowing Coach (Winter Training)
Angela started rowing as a Junior in 1998, right here at Mic Mac AAC. In 2001 she rowed with team Nova Scotia at the Canada Games, competing in the W8+. Soon after, she was recruited by Halifax Rowing Club to cox their master's women's 8+ crew that went on to compete at the Head of the Charles Regatta in Boston. In 2006 Angela taught Learn-to-Row at the Vancouver Rowing Club, sharing her knowledge and love for the sport to the eager new athletes. After a few years hiatus from rowing she came back to rowing in NS, and rowed for several years at Halifax Rowing Club and Mic Mac AAC. After successfully leading the Adult Masters Competitive program in 2017, she is excited to continue on as a Coach with our Winter Training program.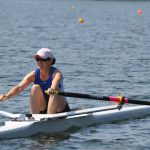 Deborah Skilliter, Yoga Instructor and Indoor Rowing Coach (Winter Training)
Deborah first started rowing and coxing at Albert College High School in Belleville, Ontario when she was 15. She started rowing again in 2002, shortly after she moved to Dartmouth. She has rowed recreationally and competitively ever since. Deborah has also coached Learn to Row programs, junior rowers, and a Dalhousie novice competitive coxed four. She coached synchronized swimming for over 30 years and has been teaching yoga for 10 years.
Jennifer Lewandowski, Running, Cycling, and Strength & Conditioning Coach (Winter Training)
Jennifer is happy to join the MMAAC coaching family and bring her cross-training experience to the group during the off-season through running and cycling practices. A Dartmouth native, she is a four-time Ironman finisher and a competitive Master's rower. Ten years ago, she made the (un)natural progression from ballet to rugby and today she is certified in Barre Fitness (BarrEast), Yoga, and is a Schwinn-certified spin instructor. She is the proud founder of Pacing in Pink, an initiative to promote breast cancer awareness and education in young women. She has lost count of how many marathons she's run and makes a mean vegetarian lasagna, despite being a total carnivore.
---
A committed group of volunteers serves as the Steering Committee for the MMAAC Rowing Club. They manage all aspects of club operations including membership, programming, staffing, finances, equipment, and facilities.
Steering Committee Members for 2016-17:
Devon Cassidy
Angela Hersey
Vance Hiscock
Karen Kavanaugh
Siobhan Wiggans
Rhonda Wilson
Leah Wood
Rowing Representatives on the Mic Mac AAC Board of Directors (effective November 2017)
Austen Gilliland
Graham Judge
Michelle Raiche-Marsden (Secretary)
Brian Turnbull
Linda Young
---
MMAAC Rowing is organized and managed almost exclusively by volunteers.
"It takes a village" to maintain and grow the club, and provide a positive experience for program participants. MMAAC Rowing encourages its members to become involved in the clubs operation. Volunteering is a great way to make friends and to become part of the rowing community.
There are various ways you can help out at the club!
Volunteer at regattas as a timer or safety boat operator. Consider becoming certified to serve as an Official.
Be on a Committee
Volunteer specific skills, services, or materials
Fundraising activities
Our goal is to share the work, make new friends and have fun!
---
Parents – you are already supporting our athletes by engaging them in an activity that allows them to be active and outside, learning life skills such as teamwork and communication. Thank you for the many drives back and forth to their practices; for ensuring they are well fed, hydrated, and rested; and that they can pursue their rowing dreams of success!
Coaches – Most coaches work many hours beyond what they are paid for. They attend various training sessions to ensure they are providing a safe environment for their athletes to perform their very best. Ask your Coach what you can do to help… simple acts of assistance help the Coach focus on what is most important.
Fans – Come cheer us on! Whether at a local or international regatta, Novice or high performance, all athletes deserve a cheering section. See our calendar for a list of upcoming events.
Fundraising – there is a cost associated with providing suitable equipment, environment, programs, and coaching to athletes, The best fundraising strategy is to build our membership. Please consider any of the following financial contributions:
Refer a friend to join one of our programs
Support a young athlete by sponsoring their registration fees, uniform purchase, etc
Attend or support one of our many annual fundraisers
Contact our Steering Committee regarding a large contribution. We are open to various forms of recognition, to be discussed with the donor.
---
October 30, 2017 – REMINDER: WINTER PROGRAMS START TUESDAY, NOVEMBER 14
October 22, 2017 – WINTER PROGRAMS START TUESDAY, NOVEMBER 14
August 23, 2017 – FALL PROGRAMS START SEPTEMBER 5
June 16, 2017 – SUMMER PROGRAM REGISTRATION REMINDER
June 11, 2017 – FEELS LIKE SUMMER!
May 9, 2017 – SPRING INTO ACTION
May 8, 2017 – SPRING / SUMMER REGISTRATION REMINDER
April 7, 2017 – SPRING / SUMMER REGISTRATION REMINDER
March 25, 2017 – SPRING / SUMMER REGISTRATION
March 3, 2017 – SPRING AND SUMMER PROGRAM REGISTRATION IS NOW OPEN!
November 13, 2016 – PREPARING FOR WINTER
November 5, 2016 – WINTER TRAINING REMINDER
October 18, 2016 – WINTER TRAINING
September 16, 2016 – FALL ROWING IS FUN!
August 22, 2016 – LAST WEEK OF SUMMER ROWING!
August 14, 2016 – FALL REGISTRATION INFO
---