PEEWEE (UNDER 12) & BANTAM (UNDER 14)
Mic Mac A.A.C. offers programs for athletes in both age groups under the PeeWee (U-12) and Bantam (U-14) umbrella.
PeeWee's are under 12 as of January 1st on the year of competition.
Bantam's are under 14 as of January 1st on the year of competition.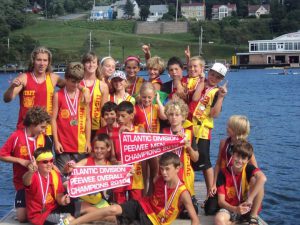 These athletes learn to paddle in canoes and kayaks in singles, doubles and fours as well as war canoes (canoes for 14 athletes and a coxswain). Each age group has a coach to lead them everyday along with specialized coaches to train in C-15 and group boats while learning safe boating skills, team building, leadership skills and sportsmanship.
An average day in each program includes instruction in both kayak and canoes with the schedule running from 9:00am – 4:00pm daily. There are designated supervised lunch breaks along with time for swimming and socializing within each group.
These age groups each have two regular regattas and a championship regatta throughout the summer as well as the opportunity of participating in other regattas depending on their skill and ability.
General Equipment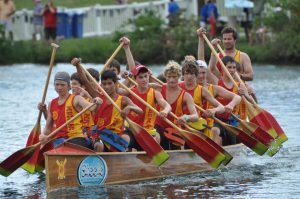 Singlet
Life Jacket
Bun
Sunscreen
We have a full operational canteen that is open all day every day. Mic Mac A.A.C. has full size lockers available for rent $25.00 on a first come first served basis. There are a limited number of spaces for personal boat storage at a cost of $75.00 per boat. These spaces are for racing canoes and kayaks used within the training program not pleasure boats such as sea kayaks.
Beginning in 2019, all athletes under the age of 15 will be required to wear Life Jackets, Lifebelts will no longer be permitted.
The proposed regatta schedule for 2016 is as follows:
The participants are not required to participate in every regatta although we ask that this information be made available to the coaching staff to prepare crews. Each regatta is a day long event and not always held on Lake Banook. This gives opportunity for our athletes to experience other venues as well as other venues the opportunity to welcome our athletes. Athletes will be required to bring their singlet, life belt or PFD and bun for race day.
There are other regattas such as Canada Games Core Team, Olympic Challenge and Just Paddle It, involving the above age groups. Participation will be based on the coach's discretion.
Please add www.adckc.ca to your favourites for updates regarding regattas, draws and results.