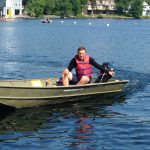 The Mic Mac Amateur Aquatic Club in Dartmouth, Nova Scotia is seeking applications for part-time coaches to support its fall rowing programs (September 4 – October 31, 2018). Fall programs include a variety of early morning (5:45AM), after school (4:00 and 4:30PM) and evening (6:00PM) time slots, depending on the program. 
Coaches are responsible for development and safe delivery of Learn to Row, Novice, Recreational, and Competitive programs for all ages. Staff may also have responsibilities related to administration, program promotion, and equipment and facility maintenance, depending on their availability, skills, and interests. 
Skills and Qualifications:
At least one season of rowing experience
Current Emergency First Aid/CPR certification
Pleasure Craft Operators Card
Excellent interpersonal, organizational, communication, and leadership skills
Candidates over the age of 18 must be able to provide a clear Criminal Records Check. 
Preference will be given to applicants actively engaged in National Coaching Certification Program (NCCP) training and certification, including Learn to Row Instructor, RCA Coach, and RCA Performance Coach; or equivalent.
Applicants are requested to send a cover letter and resume by Sunday, August 26, 2018 to Tracy Brown at: micmacaacrowing@gmail.com. Include details of your rowing, coaching, and any other leadership experience. Please also include an estimate of the number of hours you are interested in working, and any preferences for days of the week and programs to work with.
Tracy Brown, Sport Director, Mic Mac AAC Rowing