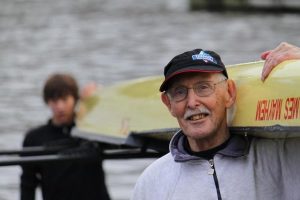 Who is considered an "Older Adult"?
We are hesitant to attach an age to this term! Typically people consider ages 65+ to be in this category, however this is not something that will be enforced. Anyone who would like a little extra assistance and support taking up this new activity is welcome to join this program.
How is this program different that traditional Adult Learn to Row programs? 
a) Expanded Training Support
The program includes additional indoor rowing sessions prior to on-water sessions. These sessions provide extra opportunity to identify any physical limitations prior to transitioning to on-water rowing. Indoor and on-water rowing activities are supported by increased focus on warming-up, cooling-down, and increasing mobility / range of motion.
b) Modified Equipment Handling Procedures
Traditional methods of handling rowing equipment involve overhead lifting of boats, and twisting from having the boat in an overhead position to being on the water. Typical approaches to getting in and out of the boats involve significant ankle, knee, and hip flexion. This program offers additional equipment handling support to participants who have concerns in these areas.
c) Modifications to Rowing Equipment
Similar to modifications made to rowing equipment for some para-athletes, boats can be retro-fitted with pontoons on either side for increased stability. This modification will be available, and greatly reduces the risk of the boat tipping.
d) Modifications to day / time of day schedule
Rowing programs are typically offered in the early morning, after school, or evening. This program is offered during the day. This is beneficial to the participants, as they are exposed to the sport when the sun is up and winds are down, and without the stress of congestion in the boat house and traffic the lake during peak periods.
Program Details
Introductory rowing program for older adults who want to try the sport for the first time, or return to the sport after some time away.
Consists of eight 1.75-hour lessons over a 4-week period.
Participants will receive indoor, dockside, and on-water instructions. They will learn about safety, equipment, terminology, and the basic elements of a rowing stroke, focussing on sculling.
All rowing equipment is provided.
Schedule
Mondays, May 28, June 4, 11, and 18
Wednesdays May 30, June 6, 13, and 20
9:15-11:00AM
– Program Fee Early Bird Discount: $130 if paid and registered by May 1. $150 from May 2 onwards.
– Annual Membership Fees: $15 for Row Nova Scotia and $20 for Rowing Canada memberships will be added to the first program joined each year (April 1-March 31).
Please feel free to contact us at (902) 461-7525, or: micmacaacrowing@gmail.com for more information!